This summer I was pleased to take part in Maker Festival Toronto in two capacities. I was an exhibitor-participant in the Glowatorium and invited as a component of the opening night party. Both activities provided their unique opportunities and challenges.
Make it Glow Party
The opening night party's theme was "Make it Glow". My project being long exposure photography coupled with LED-filled vending machine balls was a natural fit. It was gratifying to have my work appreciated and I was more than happy to be involved. The gallery from the party is here. One thing that I enjoy is seeing an interpretation of my original concept by individuals. For instance, this guy with the LED shirt! I kept pointing to all the lights people had as possible capture points.
Or this woman with awesome LED glasses.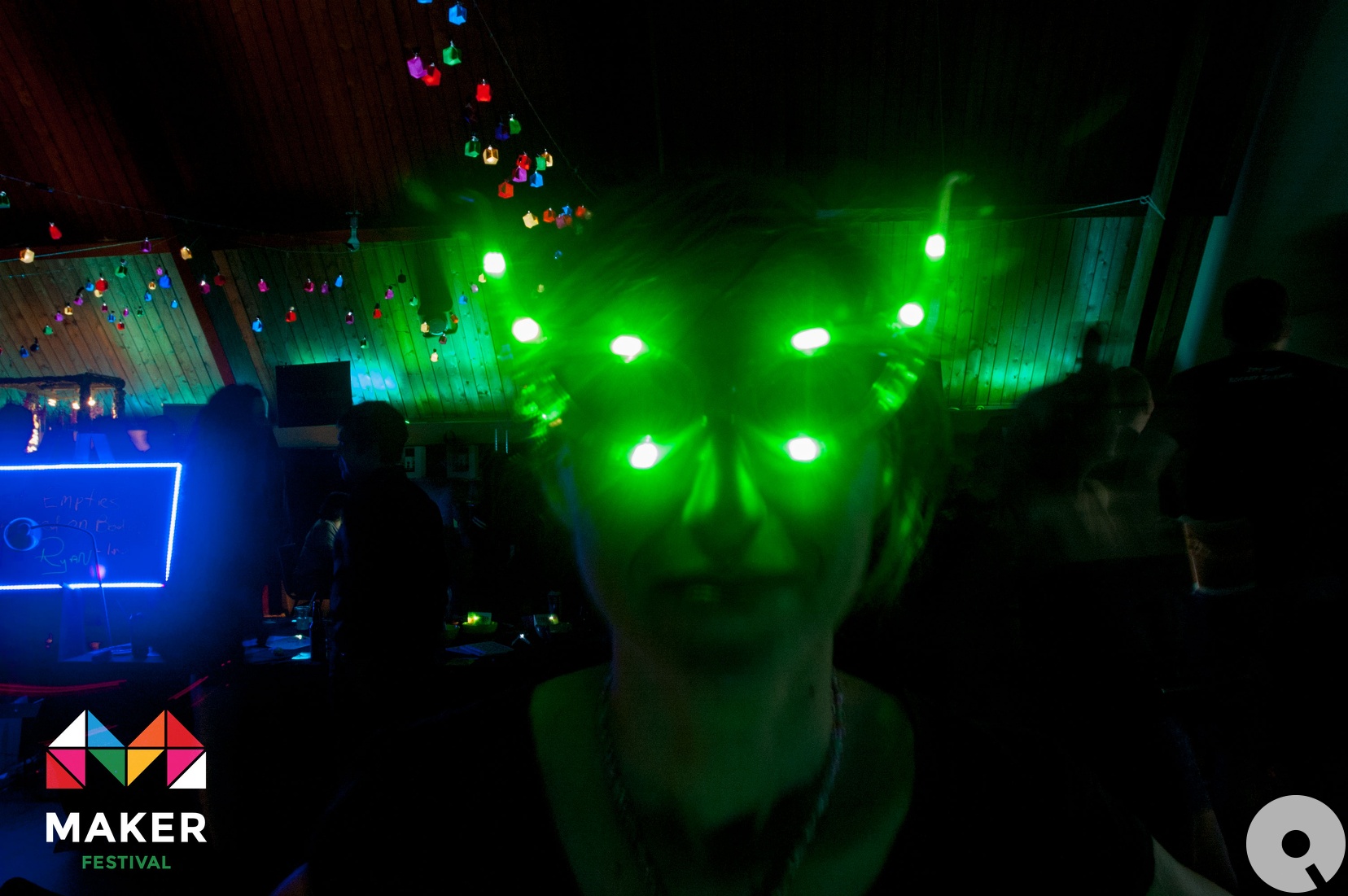 I can say that my voice was tired after an evening of yelling "3! 2! 1! GO!" and "3! 2! 1! STOP!" but having captured 77 gallery images (many more that didn't make the gallery as I needed to get permission put the pictures up and if the subject didn't like what was taken, they could say no). Nick Pagee was kind enough to take a video of what I was dealing with. The funny thing about long exposure is simply that you're not really sure what you'll draw in the air. It takes practice to be consistent.
The only issues I had were a nearby installation had a very bright light which meant I was competing for darkness and the general volume. All in all, I loved the experience and would do it again in a heartbeat.
Maker Festival
After my acceptance into Maker Festival, it became painfully obvious I was unprepared. As a contract developer, I hate spending money. However, being frugal (read: cheap. super cheap) wasn't going to be an option in this case. I began to plan my table. My brother agreed to help me out for the weekend which was amazing because I could pay him in beer and food and a place to sleep. Regardless, that was sorted out. I wouldn't be working my table alone.
The Table
Planning a table involves an understanding of the activity. I wanted to be able to take photos, let people build light balls and have traffic remain unimpeded. I wasn't ever sure how to set up because I didn't know the space in which I was working. I knew I had a table of specific dimensions but other than that, I was guessing. I went through a couple of layout plans before I saw my table and its position in the room. Once we were able to get access to the space, how to set up became evident.
The Table cont'd
I intended to sell light kits that the buyer could assemble themselves or take home and build later. If someone bought a light, I would give them a printed photo of their capture. The photo printer was generously donated by the kind folks at Art & Science TO. The printer was remarkably fast and I was able to get a workflow sorted out that meant from capture to print-out was around a minute. There was little standing around waiting at my table. There was plenty of standing around and watching the captures but that's totally acceptable. I felt a little bad for the rest of the people in the Glowatorium as I was still having to yell a countdown for people. Due to the amount of ambient light, I provided super bright LED flashlights for captures and we still managed good photos.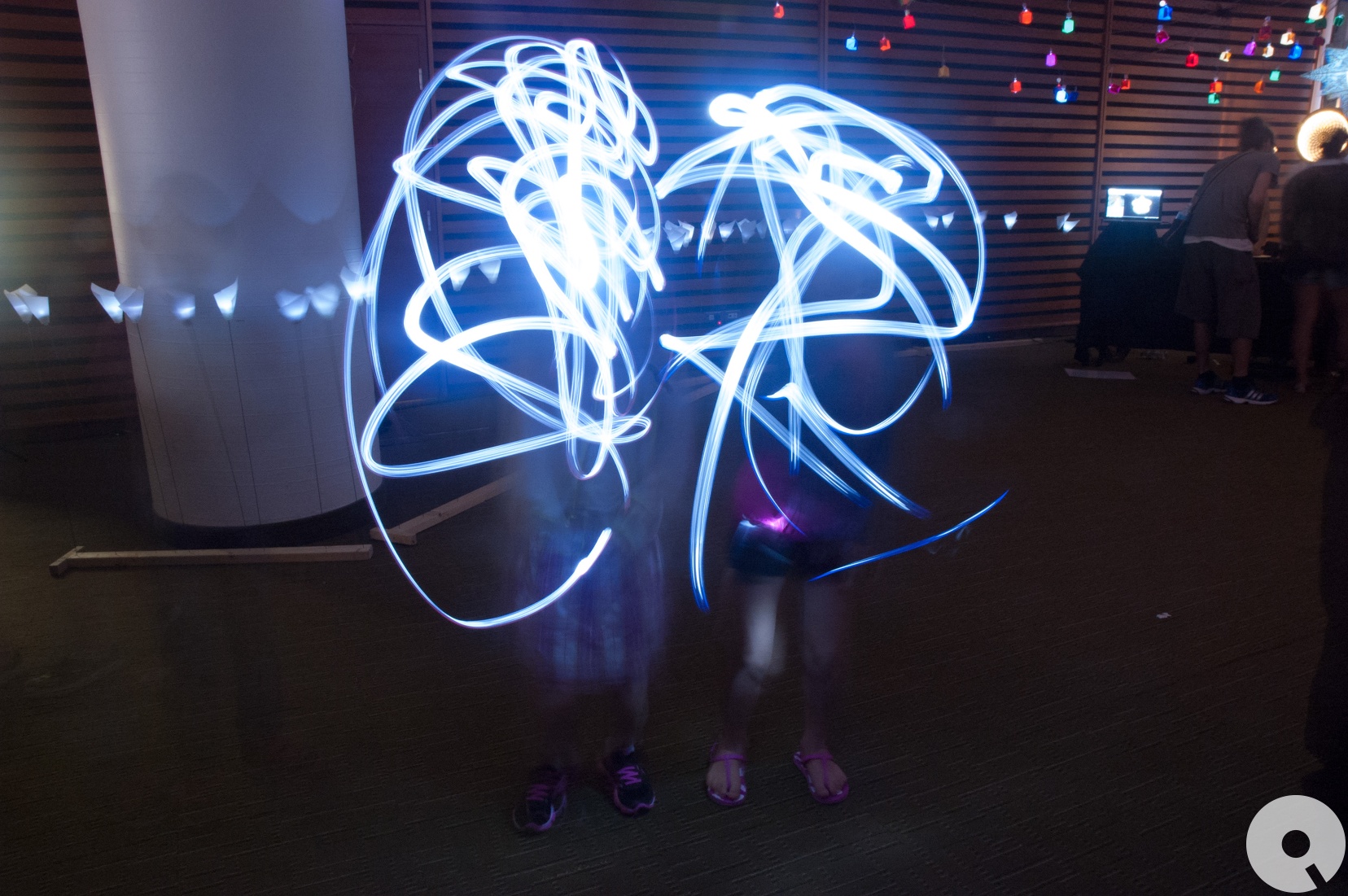 Additionally, attendees were soldering their own LED rocket ships that worked really well.
There's something about a gumball machine that's always been a "I want that" thing for me, so spending some money on a vending machine was cool. Filled with LED balls in a darkened room, it looked extra cool.
I designed packaging my LED kits, as well. This was a fun exercise as it allowed me the chance to stretch my long-unused illustration skills. The result was a small, folding card that inserted into the bag. When opened the instructions guide you through the assembly.
The gallery from day one is here. The gallery from day two is here. Just over 140 captures is impressive and I am so happy to have the opportunity to participate.
For some reason, when reading the title, I would hear bundling the words as a single thought "Light Motion Capture" then they'd look up puzzled. This is the fault of titling, of course. When said with a pause after "Motion", you get "Light Motion … Capture" Capturing light motion. When getting people ready, I point at their light and say "That's your brush!" Then point at the camera and say "This is your canvas! Let's make some art!" I hope part of the success of the project is my own enthusiasm. I am stoked to see you make art.
It's fine if you've done this before. It's fine if you know the concept behind it. You want to tell me about the kayaker? Cool. I love that series. Did you know he has an entire site filled with amazing work? His name is Stephen Orlando. Check him out. Long exposure photography is really old. I am excited about how kids play with the lights. How excited they get to see the results of them dancing around. The look on their faces when they're told they can keep the ball.
The original concept is blogged about here.