TLDR; I made a cool IoT project using teddy bears for Kraft and Rethink Canada.
Update: I don't sell the bears. I can't sell the bears. I can't make new bears for sale. I appreciate all of you looking to buying the bears but it is what it is.
Update: Write up in Ad News
Update: Nice write up in Strategy Online
Update: A new commercial launched in spring 2018 with the bears.
This is the base rundown of the project. For a technical rundown, please see this post.
In early May 2017 I was called in for an informal chat at Rethink about a possible project. Under frienDA, I was told "We have this client with these two bears. We want the bears to tell each other when they're being hugged. Want to give us an estimate on what that'd take?" I blurted out some insanely low number because I didn't have a clue and said I'd go home and write an SOW (Statement Of Work) for them outlining more specific details. When I got home, an official NDA was waiting in my inbox followed by a briefing document. Kraft has these two teddy bears with bowties; green for smooth and red for crunchy. The ask was this; When one bear is hugged, the other bear's bowtie will light up and vice versa. When both bears are hugged simultaneously, a sound will play. The bears will be paired only to each other. 10 pairs in total are required. The bears need to work across Canada. A bear in Vancouver must be able to activate a bear in Montréal, for instance.
I was very excited. Not only would this be a project I could sink my teeth into (peanut butter pun, anyone?), I like getting paid. So I geared up and started researching what I'd need to do.
Then came the email freelancers dread. "Looks like the client wants to put the project on hold. I'll let you know when or if anything changes." I was forced to bide my time. Then the miraculous happened. In early July I got the email that the project was back on! So I invoiced for the deposit on the prototype, ordered hardware and got to work.
I walked in three weeks later to a meeting with a prototype set up with swappable boards (wifi and GSM) to show how they functioned. Everyone liked the result and, with a small amount of revisions, I was good to go on the production bears. I delivered the final product in early October. Ten pairs of bears, only communicating with each other. GSM boards meant, as long as you can connect to the cellular network, you can successfully communicate with your paired bear.
I set up four wifi boards with identical firmware, added their IDs to the database and they were used for this commercial.
I am beyond pleased with my contribution.
This project wasn't executed by me alone. I was happy to be able to include some people that allowed me to finish within the timeframe provided (possibly some late nights involved).
Stewart Russell. Stewart is a mechanical engineer and employee of Elmwood Electronics. He was integral in the component planning and wrote the initial bill of materials used in the prototype. He saved me a lot of research time in how to combine the components effectively. I bought nearly all the components for the prototype from Elmwood and truly appreciate their help and accommodation.
Jodi Crossingham. Jodi did all the sewing for me. She took the two prototype bears, disassembled them, sewed pockets, punched holes in the necks. Jodi did what I couldn't and did it very well.
Ryan O'Brien. Ryan took all the boxes and my cutting templates. He spent a good ten hours cutting, drilling and prepping all the boxes for component inclusion. With a few hiccups, he did a great job. The amazing thing is, doing this has nothing to do with his normal skill-set. Which is being an amazing planner and developer.
Sean Holden. Sean spent an hour or so over pints helping me plan my database needs. At the end of the day, it sorted out my thinking. Thanks, Sean.
Benjamin Fox. I am not a full-stack developer. Ben is. When I approached Ben with my communication concept, he ran with it and generated the database and services. He was integral to the completion of the system and I can't recommend him enough.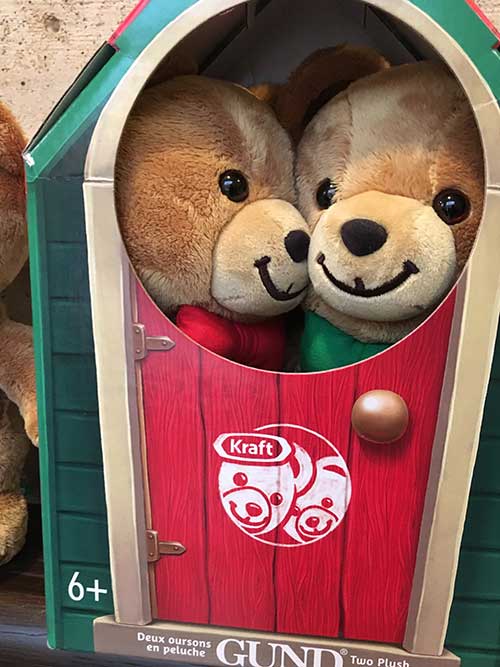 This project helped me realize a long-held skill of Technical Producer. I planned, managed and executed from start to finish. Need something built? Need me to run a project? Let's talk!